Patten Mines Railroad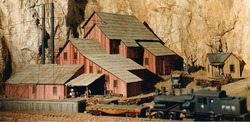 Patten Mines Railroad serves a small community on one of the thousands of islands that make up the panhandle of Alaska. Established as a mining railroad, the line soon expanded to serve local loggers and fishermen.
Ore from the different mine sites is processed here before being shipped to the Lower 48.
This site provides a pictorial history of the railroad, its construction, and its scenic highlights. In various stages of construction for decades, Patten Mines Railroad continues to prosper and expand its operations to meet today's search for new materials for progress.
G J Ritter Memorial Bridge Burns
Left wing liberals committed to saving the Grey Spotted Owl are believed responsible for destroying this landmark bridge, dedicated to local fire safety expert, G J Ritter.